Empowered Women of Greenville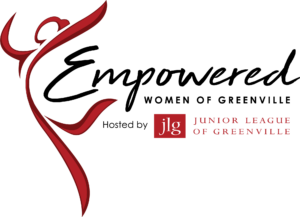 The Junior League of Greenville believes that Empowered Women empower women.
We believe Empowered Women have the ability to make positive change – improving their lives, their families, and creating a ripple effect that will impact the larger community.
Empowered Women of Greenville (EWG) is the Junior League of Greenville's signature Community Impact event, now in its third year. EWG is a free, day-long conference focused on helping women reach their full potential and aligns with our mission of advancing women's leadership for meaningful community impact through volunteer action, collaboration, and training. The JLG's Community Impact strategy engages in initiatives that help women in our community overcome barriers, specifically related to human trafficking and economic mobility.
The EWG program includes featured speakers, breakout sessions, and opportunities for networking for women served by our partner agencies along with women from the wider Greenville community. Health & Wellness, Career & Job Search, Financial Literacy, and Building Community are our four topic focus areas. Dynamic sessions related to these topics will be led by local experts, with a focus on encouraging women to take steps to empower themselves in recognition of the fact that women often serve as the economic engine for many households. This year, we're adding an exhibit area where sponsors and community partners can showcase their products and services to attendees. Breakfast and lunch is included for attendees. 
We are so excited to announce our keynote speakers: Jennifer Jones, founder of Beauty Marks for Girls, and Meliah Bowers Jefferson, executive director of The Jolley Foundation. See all of our speaker biographies here. 
Click here to register for this free event!
Sponsorships are now available!
Please view our 2023 Empowered Women of Greenville sponsorship packet here.
Thank you to our 2023 Presenting Sponsor, Pinnacle Financial Partners!