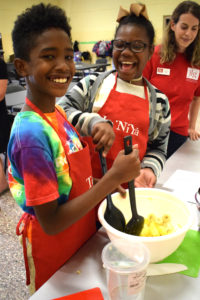 A program has been launched in the Nicholtown Community Center Afterschool Program where members of the Kids in the Kitchen (KitK) committee will provide a community-based nutrition program for children in grades 3 and 4.
The Kids in the Kitchen program aligns perfectly with the JLG mission to improve the community through effective action and leadership of trained volunteers by utilizing its volunteers to educate children on how to prepare and cook healthy meals! The program also encourages the kids to incorporate healthy cooking practices into their current cultural food preferences and provides opportunities for them to learn, grow and explore through foods from diverse cultures. During the 7 month program, the KitK committee members will work with the children to expand their fruit and vegetable preferences, attitudes towards cooking, and confidence in following a recipe by teaching the kids how to prepare meals such as Cuban Beans, Potato Pancakes, Vegetable Paella, Ethiopian Lentils, Minestrone and a Japanese Rice Bowl.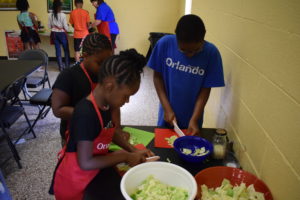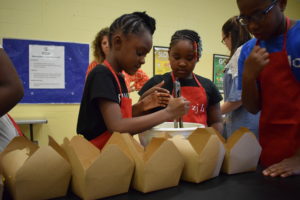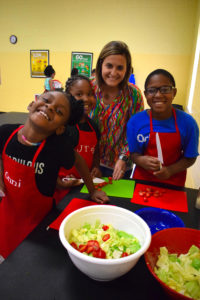 Prior to this year, members of the KitK committee spent a year looking for other evidence-based programs with similar goals around the United States.  Committee Members researched existing hands-on, play-based cooking programs across the country.  The curriculum from Cooking with Kids was selected as it was a six week program, the longest existing program of its kind.  Kids in the Kitchen was given permission by Cooking with Kids developers to adapt their curriculum and use their evaluation system for a year-long pilot program.  Once a curriculum was selected, the KitK committee decided to implement the program in a local after-school program.  Due to the close relationship the Junior League of Greenville has with the Nicholtown Community, the program launched at the Nicholtown Community Center Afterschool Program in August of 2016. In addition to the Cooking with Kids curriculum, students work with dietitians to revise and adapt their favorite family recipes to make them healthier. Class favorites are salmon cakes, shrimp and grits, pan-fried chicken and meatloaf.