Prospective Member Meet & Greet – Festival of Trees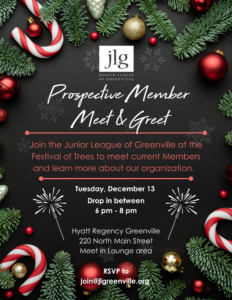 Service-minded women who reside in Greenville County and are over the age of 21 are invited to join the Junior League of Greenville's Recruitment Committee for a Prospective Member Meet & Greet on Tuesday, December 13. The Junior League of Greenville (JLG) is an organization of over 1,100 women committed to advancing women's leadership for meaningful community impact through volunteer action, collaboration, and training. Our members gain leadership skills while also improving the community for our neighbors who are in need.
Drop in anytime between 6–8 PM in the lounge area of the Hyatt Regency Greenville to mix & mingle with current members. You'll have an opportunity to learn about the JLG's history, mission, and impact on Greenville County and how to become a Member! Be sure to check out the Festival of Trees while you are there, especially the JLG tree decorated by our current Provisional class. For more information, email join@jlgreenville.org or visit https://www.jlgreenville.org/join/. We hope to see you there!