Shop for Greenville is the JLG's newest fundraiser. Shop for Greenville is a 10-day event for the general public to purchase a discount shopping card and shopping guide book for local businesses. Our 2019 Event will be held from March 15-24, 2019.
100% of the proceeds generated from the sale of the JLG Shop For Greenville discount cards will support the JLG's programs and the community agencies with which we work to improve the lives of women and children.
Shop for Greenville discount shopping cards and guide book are NOW available for purchase! 
Purchase online HERE! Books ordered online will be shipped weekly.  Please note that books purchased online after Monday, March 11 may NOT arrive before the start of Shop for Greenville. 
Selling locations:
The Art Cellar
Augusta Twenty
Blossom Shoes and Such
Blush Nutrition
Carolina Furniture and Interiors
Copper Penny
La Bouteille wine and beer boutique
Mainstream Boutique
The Nearly New Shop
Paisley & Paper
Pink Bee
Rockerbelles, Rocker Chic Boutique
Samantha Grace
The Southern Threader
A copy of the 2019 shopping guide can be viewed HERE!
Details on additional participants not featured in the guide can be found HERE.
We are no longer able to include additional Shop for Greenville 2019 retailers in the printed shopping guide. However, businesses can still submit contracts to participate and will be featured on the website.  If you would like information regarding participation in Shop for Greenville 2019 or would like to be contacted in the future for Shop for Greenville 2020, please email shopforgreenville@jlgreenville.org.
Please contact us if you have any questions!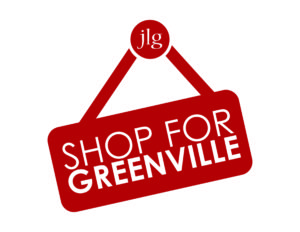 SHOP FOR GREENVILLE 2019 RETAILERS
601 South Boutique
Aerie Lane, Greer
Ambassador International
The Art Cellar
Augusta Twenty
BabyQuip – Tracy Williams**
barre3 Five Forks
barre3 Greenville
Beautycounter – Casey Bell
Beija Flor
Bella Bridesmaids
Blend Hair Salon
Blossom Shoes and Such
Blush Nutrition
Brooks Brothers
Carolina Furniture & Interiors
Centre Stage
Chelsea's
The Children's Museum of the Upstate
The Chocolate Moose Bakery**
Chris M. Peterson, MD, PA
Clemson Eye
The Cook's Station
Copper Penny
Ellesthetics
Emily Faye Cookies
Encore Gastrolounge
Fleet Feet
Giggles Drop-In Childcare
Good to Go GVL
Greenville Nannies
Gringo's Cantina
Hale's Jewelers
Half-Moon Outfitters (Still at Laurens Road location until May!)
Hare & Field, a public eatery
HRP Interiors
Iron Hill Brewery & Restaurant
Junior League of Greenville – Merchandise
Kid to Kid
Kilwins Greenville
Kindred Bravely
La Bouteille wine and beer boutique
Liberty Tap Room & Grill
Limoncello
The Little Gym Greenville
M. Judson Booksellers
Mainstream Boutique
MAKE MADE Jewelry
Marian Pouch Art
Mast General Store
Modern Forestry
Moe's Original Bar B Que
Monat with Brantley
The Monogrammed Tiger
Montford Designs
The Nearly New Shop
Noonday Collection – Sarah Gillette
NORWEX! with Sandy
Nothing Bundt Cakes
O-CHA Tea Bar
Oak & Honey
Oil & Vinegar
Organic Tan Face & Body
The Original Harvey's Family Restaurant
Paisley & Paper
Phil Hyman Photography
Pink Bee
Pinkney Paper
Plum
Pomegranate on Main
Pour Taproom
ProCore Pest Control
Rainbow International Restoration
Razzberry Fizz
RockerBelles, Rocker Chic Boutique
Samantha Grace
Scentsy – EK Pope
Shops of Provence
Smith & James
The Sock Basket
South Carolina Children's Theatre
Southern Charmed Baby
The Southern Threader
Speed Factory Indoor Karting
Splash on Main
Sproingers Wool Dryer Balls
Swoozie's
Todaro Pizza GVL
Universal Joint
Upcountry History Museum – Furman University
Verb Beauty Studio
Vestique
Yee-Haw Brewing Company
Yogurt Mountain
**Not in the Shopping Guide but ARE participating in Shop for Greenville!