Shop for Greenville is the JLG's newest fundraiser. Shop for Greenville is a 10-day event for the general public to purchase a discount shopping card and shopping guide book for local businesses.
100% of the proceeds generated from the sale of the JLG Shop For Greenville discount cards will support the JLG's programs and the community agencies with which we work to improve the lives of women and children.
What does it mean to participate in Shop for Greenville?
Agree to offer shopping card holders at least a 20% discount on merchandise, purchases and services (exclusions can be made and other substitute alternatives to the requested discount can be offered) during the shopping period

Provide a brief description for your business in 30 words or less that appear in the shopping guidebook and website

Have the opportunity for members of the JLG and others in the community to learn about your business

Promote your participation in 

Shop for Greenville

 by displaying promotional materials provided by the JLG and posting on your active social media channels
Why sign up to participate in the JLG's Shop for Greenville?
Increase in traffic and/or new customers and participate in a fun city-wide event

Market to engaged buyers in the Greenville community in 800+ shopping guidebooks

Give back to the Greenville community at little to no cost
Please contact us if you are interested in having your business participate in Shop for Greenville.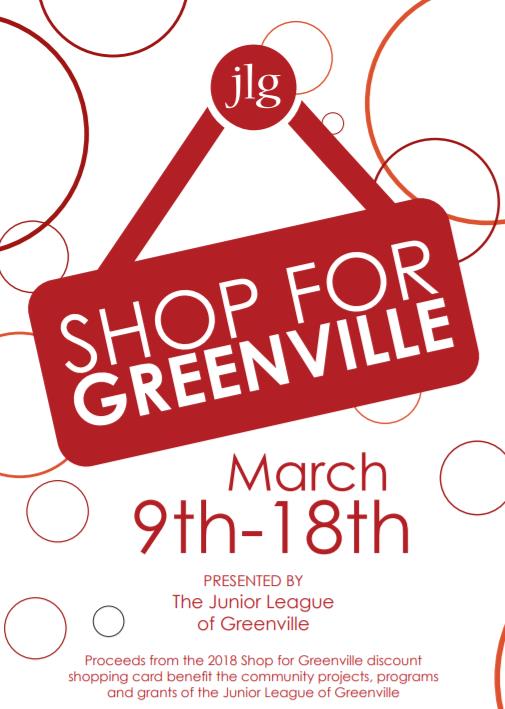 SHOP FOR GREENVILLE RETAILERS
Thank you to all our 2018 Shop for Greenville participating retailers!