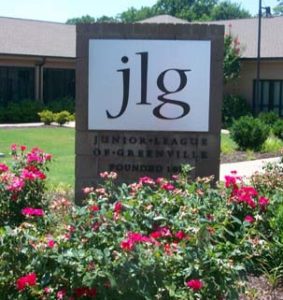 A history of training volunteers and serving our community.
The Junior League of Greenville was founded in 1929 by a group of  20 visionary women with a  passionate desire to serve the Greenville community. The first fundraising project was a thrift shop, which operated two weeks before Christmas, and the proceeds were reinvested back into the community.  There was so much enthusiasm over the success of this venture that the Junior Charities, realizing the valuable contribution of women with time to give, decided to contact the Junior Leagues in nearby cities to ask for help in revising the constitution to meet the National Junior League Standards. In its second year, the Junior Charities became the Junior League of Greenville (JLG).
Now, almost 90 years later, our resale shop, The Nearly New Shop, still fulfills the JLG mission to raise funds to support our community programs and projects while also training our volunteers. The JLG is a member of the Association of Junior Leagues International, Inc. (AJLI) with 293 member Junior Leagues in four countries.
Throughout the course of our history in Greenville, we have contributed over $2.8 million, supported over 300 agencies, helped to start many organizations, and provided countless hours of volunteer service to the community. The JLG has been at the forefront of many programs and institutions to help effect changes in education, healthcare and the arts.
Today we are a vibrant group of over 1,100 women with diverse backgrounds all passionate about volunteering in the Greenville community to make it an even better place to live while also empowering and developing the potential in women.
To learn more about our organization visit our Mission page.