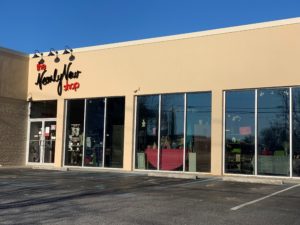 The Nearly New Shop is reopen for business with adjusted hours! 
In response to the COVID-19 pandemic, we are currently limiting the number of shoppers in the store to 10 people at a time and recommend all shoppers and donors wear masks.  
If you would like to receive information about sales or to schedule a donation pick-up, please complete this form.
Stay up to date by reading the NEARLY NEW SHOP NEWSLETTER.
Coming Spring 2021 new, redesigned preferred customer cards!
How to use:
-A $10 minimum purchase is required
-Fill the card with 20 stamps to receive 50% off one item
-Excludes furniture and precious metals
-Cannot combine unfilled cards
-Cannot be combined with other offers
-Receive double stamps when you shop on Mondays and Fridays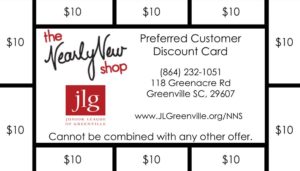 The Nearly New Shop is the Junior League of Greenville's Resale Store. Its mission is three-fold:
to provide funds that support the many programs and projects of the Junior League of Greenville, Inc.
to provide an outlet for the community to purchase fabulous clothing and household goods at nominal prices
to serve as a training ground for our members.
The Nearly New Shop staff is comprised of several employees and JLG members who donate their time. It serves around 1,500 customers per month–that is 18,000 per year!
Take a Virtual Tour of the Nearly New Shop!!     Click this link to take the Virtual Tour.
Donations to the Nearly New Shop provide the store's inventory and, ultimately, allow JLG to continue giving back to our community. We accept donations of new or gently used clothing, jewelry, shoes, linens, children's toys, seasonal items, luggage, books, furniture and small appliances. For a complete list of what we can and cannot accept, please click here. 
Donations may be dropped off from 10am – 4:45pm Monday through Saturday.
Clothes should come in bags and housewares can be dropped off as is. You can place housewares in the plastic bins provided by the NNS staff on your arrival.
Donation/tax forms will be emailed to any donor requesting a form to limit the exchange of paper and pen.
All items will be set aside for 3 days prior to being processed for the safety of our staff and our customers.
If you need assistance transporting your donation, please call the Nearly New Shop, 864.232.1051, to make arrangements for a JLG volunteer to pick up your items. All donations are tax deductible.
Thank you in advance for your donation—it is because of you the Nearly New Shop is the major fundraiser for JLG.

Nearly New Shop Sponsors
Thank you to our 2019-2020 Donors:
Thank you to our 2018-2019 Donors: