Join the Junior League of Greenville! 
Registration for the 2020-2021 has officially closed
We are ready to start talking to you about becoming a part of the 2021-2022 Provisional (new member) Class, though!
While Recruitment this year will look a little different, we are still excited to teach you about all the facts and faces of our group of over 1,200 women committed to promoting voluntarism, developing the potential of women, and improving our Greenville community.
We welcome you to join our mailing list by completing our Interest Form. This is the best way to learn about the League and what we are up to!
Upcoming Events:
Feb 9 – Shop for Greenville Recruitment Event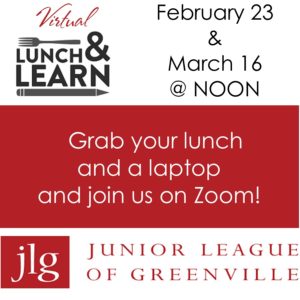 Feb 23 @ Noon – Virtual Lunch & Learn   link:   https://us02web.zoom.us/j/89113142960?pwd=dFhHYWdPS0UvYmJNc0l4YzJSc29pQT09
March 16 @ Noon – Virtual Lunch & Learn link: https://us02web.zoom.us/j/85865838408?pwd=TlZvVndZQmtwMmt3YkQrV2NqWCtwZz09
March 23 @ 5:30pm – Recruitment Happy Hour Event (outdoors or virtual)
April 14 @ 6pm – Open House
April 24 @ 9am – Open House
We look forward to "meeting" you this year and welcoming you to the Junior League of Greenville!
Please let us know if you have any questions or concerns!
Elizabeth-Kelly Pope
2020-2021 Recruitment Chair
---
Are you Interested In…
Impacting the community?
Expanding your network?
Developing professionally and personally?
Growing as a leader?
Having fun and meeting friends?
The Junior League of Greenville (JLG) is an organization where women give back to the community, grow professionally as leaders, get connected to other women, and learn about the importance of voluntarism.
---
Do you want to learn more about the Junior League of Greenville? Review our JLG FAQs.
You can also watch a short video to learn more about what our members do, and why you should consider joining.
---