Join the Junior League of Greenville! 
Thanks for your interest in joining the Junior League of Greenville!  For more information about what to expect in the first year of Membership and how to join, please view the Open House online.  You can also review the Prospective Member Packet, which includes dates for the 2021-2022 JLG year as well as other Membership information.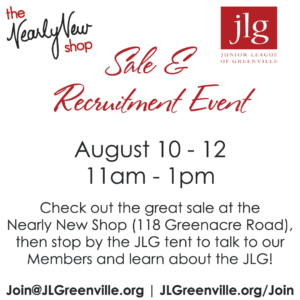 After you have viewed the Open House recording and reviewed the Packet, we invite you to complete the Prospective Member Application.  We even have instructional videos for completing the Application!
Once the Application is completed and processed, you will receive an email explaining how to accept Membership and pay your Provisional dues.
Please let us know if you have any questions or concerns.  We look forward to having you join us as a JLG Member!
Are you Interested In…
Impacting the community?
Expanding your network?
Developing professionally and personally?
Growing as a leader?
Having fun and meeting friends?
The Junior League of Greenville (JLG) is an organization where women give back to the community, grow professionally as leaders, get connected to other women, and learn about the importance of voluntarism.
---
Do you want to learn more about the Junior League of Greenville? Review our JLG FAQs.
You can also watch a short video to learn more about what our members do, and why you should consider joining.
---