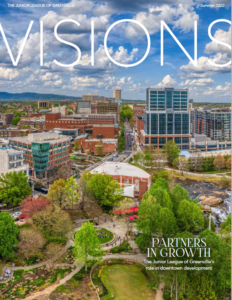 VISIONS
The signature magazine of the Junior League of Greenville, VISIONS, is published twice a year reaching an audience of over 4,500 readers. We are excited to publish our Summer 2022 VISIONS magazine! As many of you know, we normally mail VISIONS magazine. In light of COVID, we have decided to make this version an online-only version. VISIONS informs both the membership and the community of the involvement and programs of the Junior League of Greenville in addition to showcasing stories on the vibrant Greenville lifestyle. For advertising information to feature your business, download our Media Kit.
The Update
The goal of the monthly newsletter, The Update, is to highlight key information in short articles on upcoming events, announcements and the members who make the JLG the thriving organization it is today. This newsletter is available exclusively to our membership.
Member E-Blasts
JLG sends out regular emails to its Members to notify them of upcoming events and volunteer opportunities in the community.