Empowered Women of Greenville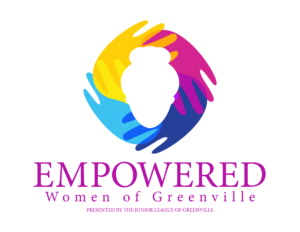 The Junior League of Greenville believes that Empowered Women empower women.
We believe Empowered Women have the ability to make positive change – improving their lives, their families, and creating a ripple effect that will impact the larger community.
Empowered Women of Greenville (EWG) is the new signature event of the Junior League of Greenville (JLG), which will align our Mission of promoting voluntarism, developing the potential of women and improving the community with our new Community Impact focus areas. The JLG's Community Impact strategy engages in initiatives that help women in our community overcome barriers, specifically related to human trafficking and economic mobility.
The Empowered Women of Greenville event will help empower women to reach their full potential by providing them with education and resources to build stability, gain independence, and connect with a community of women to overcome the challenges and obstacles they have experienced.
In conjunction with JLG's celebration of International Women's Day, Empowered Women of Greenville will focus on four topics:
Beauty and Wellness featuring a dietician and health and beauty experts to celebrate self-care
Career and Job Search teaching tips for successful career searching and interviewing, geared toward increasing the likelihood of job placement
Financial Literacy and the Psychology of Money focusing on budgeting, credit, and bank/savings accounts
Building Community & Friendship addressing the importance of getting connected with other women within the Greenville community
Due to the complications of COVID-19, we have adjusted our plans for the event to now be an online series of four seminars that will run the four Thursdays from March 11 through April 1, 2021 from 1:30 – 2:30 pm. In addition to participants being able to join live, the seminars will be recorded and can be watched "on demand."
While we anticipate this event will grow, during Empowered Women of Greenville's first year, participants will be referred from our human trafficking and economic mobility partner agencies and future partner organizations: Serenity Place, Pendleton Place, United Ministries, SWITCH, Jasmine Road, and Julie Valentine Center.
Following each session, event participants will receive incentives that are related to the topics discussed, such as interview clothing and personal budgeting guides. Additionally, those who complete all four programs will receive a gift certificate to the Nearly New Shop, JLG's resale store.
Participants will be able to take advantage of optional follow-up relationships with JLG Members to help foster social capital for participants.
With the JLG's Community Impact strategy of targeting initiatives that help women in our community overcome barriers, focusing on human trafficking and economic mobility, we intend to:
Plan an event that provides tangible resources and empowering programs;
Have a direct and lasting impact on the women in Greenville;
Create an audience that leaves the virtual events motivated and inspired to achieve positive change; and
Build a community of empowered women.
Please join us for the Empowered Women of Greenville event, focused on empowering the women of Greenville to thrive personally and professionally.
Participants can register here.
If you have any questions about this new event, please contact Nicole Mcaden or  Katy Sides.