Thank you for your interest in joining the JLG! Since 1929, we have been making significant impacts in the lives of our members as well as those in the community. Each year we have new members join our organization and expand the work we are doing. Below you will find information about joining the JLG.
Who Can Join?
To join the Junior League of Greenville, you must be:
A woman at least 21 years of age
A resident of the Greater Greenville area
What Can I Expect?
During your first year of membership in the JLG, you will be considered a Provisional Member. As a Provisional Member, you will learn about the League and our impact in the community through volunteering, attending League meetings, and participating in social events with other members. Your Provisional year begins in June and ends in May. During this time, we estimate that you will spend approximately 40-50 hours completing your Provisional requirements. This will include attending two to three events per month.
Upon successful completion of your Provisional year, you will become an Active member of the Junior League of Greenville!
Registration for the 2021-2022 is almost here! 
We can't wait to talk to you about becoming a part of the 2021-2022 Provisional (new member) Class!
While Recruitment this year will look a little different, we are still excited to teach you about all the facts and faces of our group of over 1,200 women committed to promoting voluntarism, developing the potential of women, and improving our Greenville community.
We welcome you to join our mailing list by completing our Interest Form. This is the best way to learn about the League and what we are up to!
Upcoming Events: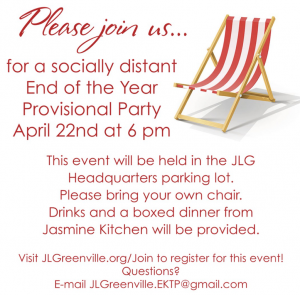 04/22 @6pm at JLG's HQ — Register Here
04/24 @9am via Zoom — Register Here
We look forward to "meeting" you this year and welcoming you to the Junior League of Greenville!
Who Can I Contact?
If you have any questions about Membership, or joining The Junior League of Greenville, please contact Elizabeth-Kelly Pope.