Prospective Member Open House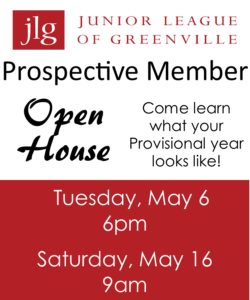 Thank you for your interest in the Junior League of Greenville (JLG).
Join us for a virtual  Prospective Member Open House which will be held Wednesday, May 6 at 6:00 p.m. and Saturday, May 16 at 9:00 a.m. via Zoom. These Open Houses are informative sessions for Prospective Members to attend. They will provide an overview of the Provisional Year and the process for joining the Junior League.
Please click one of the links below to RSVP for one of the Open Houses.