Wilted Kale with Warm Shallot Vinaigrette
(Remake of Marinated Vegetables with Salad Greens)
You won't miss the canned vegetables from this original recipe! Using kale instead of canned green beans adds a fresher flavor. Swapping onion for shallots and white wine vinegar for apple cider vinegar ensure a bright pop of flavor. You'll get the original pimiento taste from this medley when you serve these greens on top of pimiento cheese grits!
(Serves 8)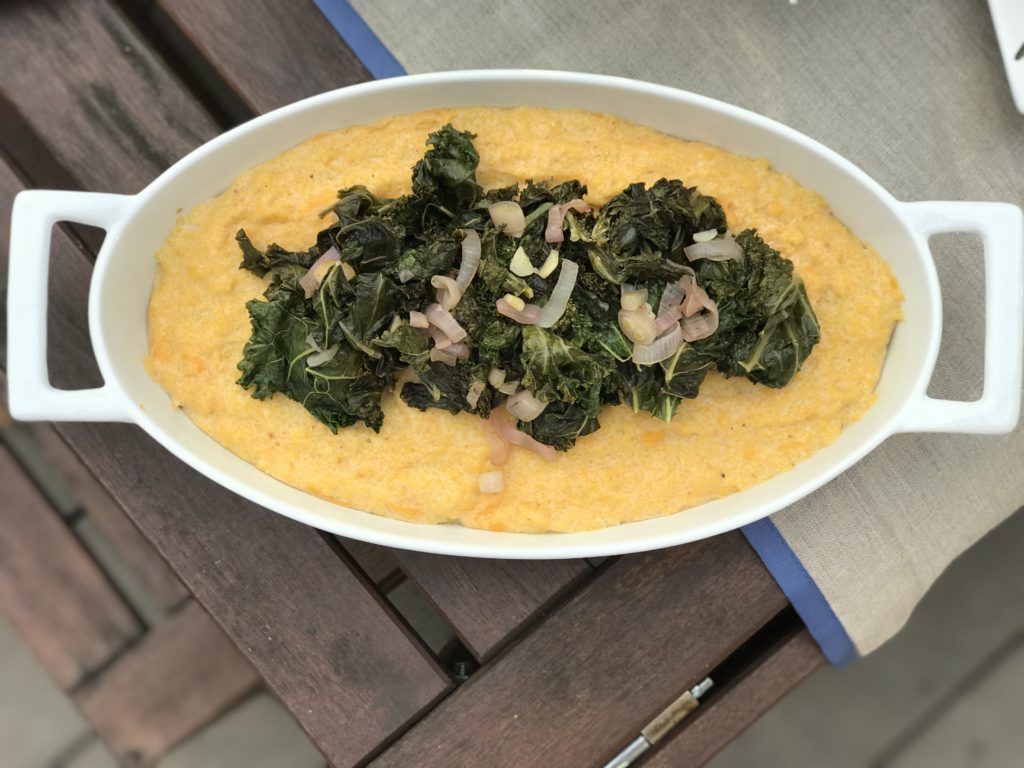 Ingredients
2 tablespoons olive oil
4 shallots
6 garlic gloves
2 bunches of kale
¼ cup apple cider vinegar
Salt and pepper (to taste)
Pinch of cayenne pepper (optional)
Recipe
Heat olive oil in a large pan over medium heat. Add garlic, shallots, salt and pepper. Cook, stirring until fragrant, approximately 2-3 minutes.
While the garlic and shallots cook, wash and strip kale from stems.
Remove the pan from heat and slowly add the vinegar to the garlic/shallot mixture.
Return the pan to heat and add washed and torn kale to the pan one handful at a time.
Stir until the kale starts to wilt.
Repeat with the remaining kale in two more batches.
Add a pinch of cayenne if desired.
Cover and cook, stirring often until tender, approximately 8-10 minutes.Remove the warmed pimiento cheese grits from the oven. Top grits with wilted greens before serving.